Installation Diagram of SWITEK 3 Axis Servo Inejction Robot SW6308S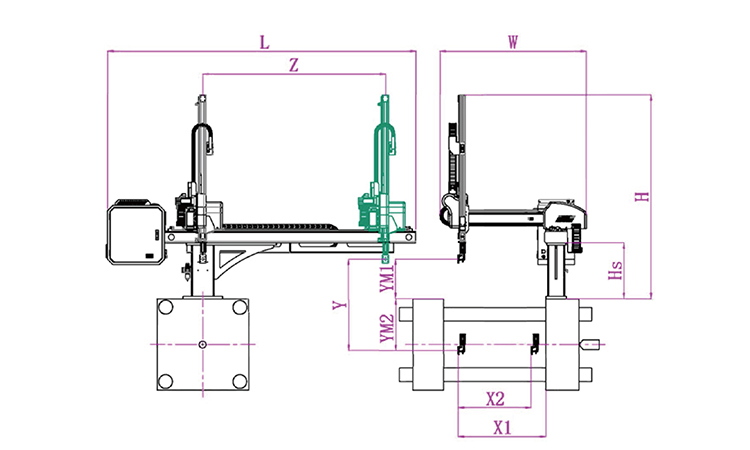 | Model No. | X1 | X2 | Y | YM1 | YM2 | W | L | Z | H | Hs | Payload | I.M.M |
| --- | --- | --- | --- | --- | --- | --- | --- | --- | --- | --- | --- | --- |
| SW6308S | 780 | 700 | 800 | 350 | 450 | 1500 | 2000 | 1400 | 1780 | 500 | 3kg | 50-200T |
| SW6310S | 780 | 700 | 1000 | 350 | 650 | 1500 | 2420 | 1800 | 2023 | 520 | 3kg | 150-320T |
Introduction: About SWITEK light weith 3 axis servo injection robot SW63 series:

SW63 Series 3 axis servo injection robot is a light weight 3/5 axis servo injection robot designed for the injection molding machine 80~320T with a payload up to 3kg and signle/dual arms 5 axis servo optional. As one of the best buy injection robot product, it has below features:

1) With key comonents from world renownend standard emchanical and electronical parts manufacturer, ensure the quality of the robots and easy for maintenance.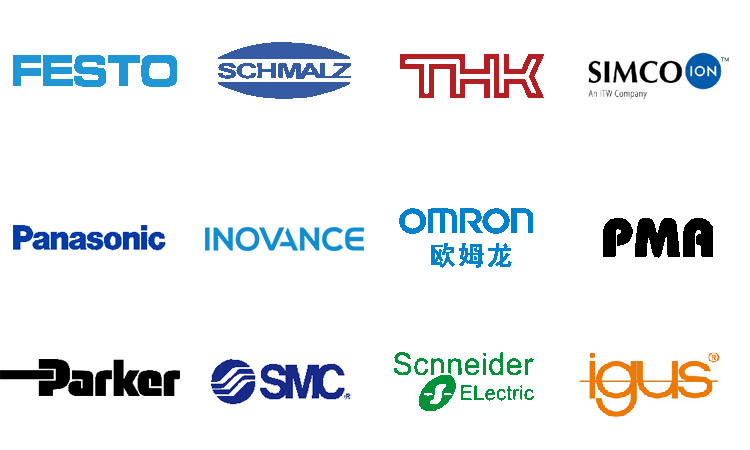 2) Modular design, conveneint for either operational or non-operational installation and easy for maintenance.

3) Epxerienced after service team to provide you with both online and in field technical support.

Some Tips About How to Choose a Right Robot for Your Automation System:
Picking:To ensure that the robot has sufficient arm length to reach the mold center of the injection molding machine to pick the products.

Take out:Ensure that it's possible to be picked out by a robot (Mold structure and product shape).

Put Down:Ensure that the robot can put the products on the conveyor as requested ( Depend on the height of the safe door and the size of the product).

Payload:Ensure that the robot arm has sufficient loading capacity to pick the product (Depends on the weight of the product).
Cycle time:Ensure that the robot will move fast enough to catch up the injection cycle of the injection molding machine.

Arms:For standard mold a single arm robot would be perfect, while dual arms robot for three plates mold.

Extra Servo Motor:4/5 Axis servo robot could be taken into consideration while there's a special demand of the moving speed, repeat precision etc.

EOAT:The custom made EOAT such as cooling, runner cutting, in mold insertion etc. will help to finish complex injecdtion process.

Why is SWITEK Compectitive Compared to Other Robot Manufacturer In China?
Quality:With ISO9001:2015 & CE Certified,  SWITEK has the capacity to ensure the quality of each robot and automation system delivered.

Innovation:National High Technical Enterprice since 2013, 5 patents of innovation, 65 patents of utility, DongGuang Industrial Robot R&D Center, 5 Software Copy Right and 4 Certificates of GuangDong Province High Tech Products well proofed the R&D capacity of SWITEK.

Service:With more than 20 after sales to provide you with online and infield technical support, SWITEK will promise a success start up of each robot right after its delivery.

Credit:Contract and credit unit of GuangDong Province since 2013


Injection Automation Application
1. 3 Axis Servo lnjection Robot E-cigarette Holder Picking & Placing Application
2. 3Axis Servo lnjection Robot Pipe Fittings Sprue Auto-Cutting Solution
3. 3Axis Servo lnjection Robot Disposable Cutlery Single Pieces Plastic Bag Auto-packing Solution
Hot Tags: Injection robot, injection automation, IoT Application, Industrial 4.0