1. Specification of the Robotic Arm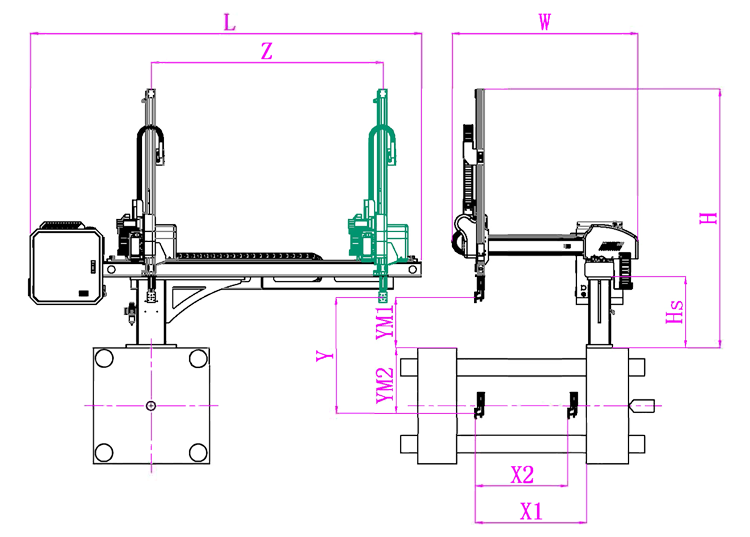 | Model No. | X1 | X2 | Y | YM1 | YM2 | W | L | Z | H | HS |
| --- | --- | --- | --- | --- | --- | --- | --- | --- | --- | --- |
| SW6308S-20 | 740 | 580 | 800 | 235 | 565 | 1260 | 2460 | 1400 | 1675 | 380 |
| SW6310S-20 | 740 | 580 | 1000 | 235 | 765 | 1260 | 2460 | 1400 | 1915 | 380 |
2. Unique Sales Points
a) Price Smart Robotic Control System Options
1) Pulse Dir Control System HC-S3
b) Price Smart Servo Motor & Driver Options
1) Panasonic Servo Motor and Driving System Optional
2) Inovance Servo Motor and Driving System Optional
c) Body Color Customize Service
d) EU12/EU67/JIS Interface Optional
1) Injection Robotic Arm Connecting Interface JIS (Asia)
2) Injection Robotic Arm Connecting Interface EU12
3) Injection Robotic Arm Connecting Interfae EU67
e) Detailed Documentation, Easy for Installation and Maintenance
1) Explosive View of Traverse Stroke
2) Explosive View the Cross Stroke
3) Explosive View of the Robotic Arm
4) Explosive View of the Electronic Cabinet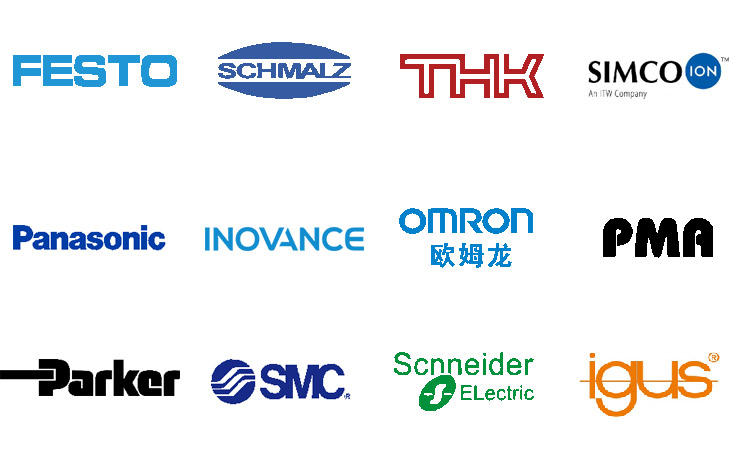 3. Service
a) Injection Robotic Arms Global In Field Installation & Maintenance Service.
b) Injection Robotic Arms After Service In Field Training Service.
c) Injection Robot Online Technical Support.
d) Injection Robot Automation System Design.
e) SKD Assembly In Filed/Online Instruction.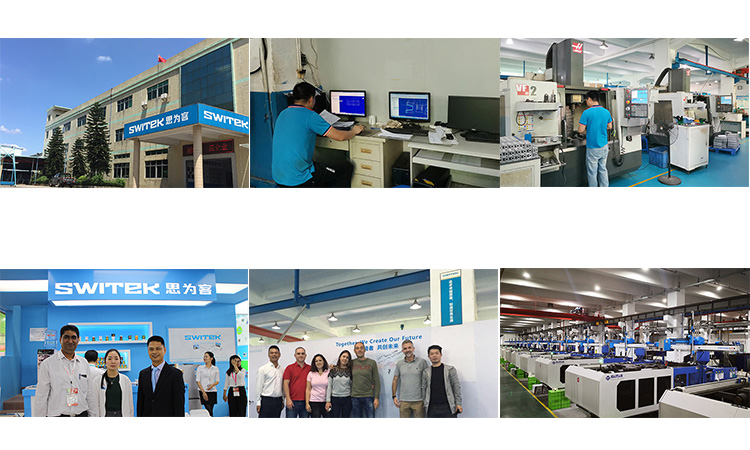 4. Why to buy Injection Robot from Switek Automation
a) Robot design and assembly since 2006
b) Complete Production line which support injection robot from 50~4000T
c) Experienced in injection molding automation
e) Experienced after service team to provide both online and global in field technical support.

5. Certificates and honors of SWITEK Automation

a) National high-tech enterprise since 2013
b) Dong Guang Industrial Robot R&D Center

c) Contract and credit unit of GuangDong Provice since 2013
d) 5 Patents of Untility
e) 64 Patents of Utility
f) 5 Software copy right
g) 4 Certificates of GuangDong High Tech Products