1. The Meaning of Switek LOGO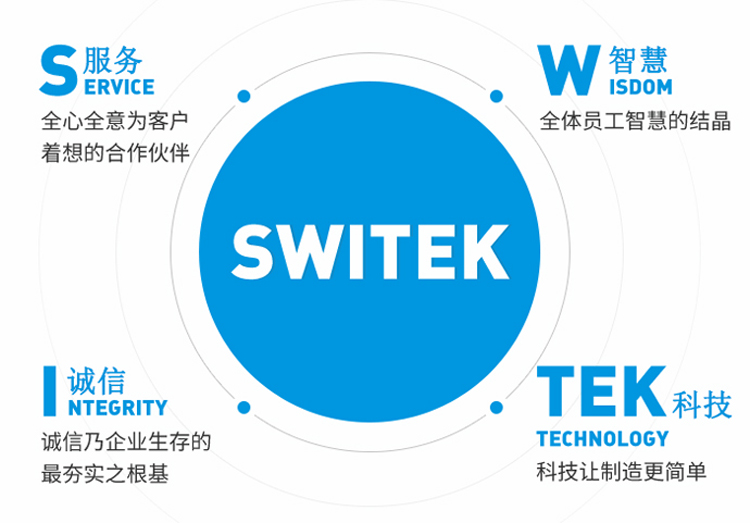 S-Service:To Provide Reliable Automation Solution and Facilities With Excellent Serivce.
W-Wisdom:Every Piece of Our Products Comes from the Wisdom of the Whole Staff.
I-Integrity:Integrity is the Fundation of Enterprise Existance.
TEK-Technology:Advanced Technology Will help to Make the Manufacturing Process Easier.
2. Mission,Vission and Sense of Worth
Our Mission:Change The World With SmartProcess Manufacturing Technology
Our Vission:Help Millions Of Enterprises To Intelligentize Their Manufacturing Process
Our Sense of Worth:User Experience Is The Driving Force Of Our Development, Integrity is The Vitality of SWITTEK
3. Management
Leader:The leader of a team is sould be the soul of his team instead of the commander. We persuit a creative team with every team member as the center. The leader of the team will find out the skill of each member to have them working together efficiently and creatively.
Communication:We have built up a mechanicism to enable the free communication among the staff or between the staff and the superior leadership to ensure a fair working environment.
Regulation:The behavior of each staff should follow the regulation to keep the company competitive in the market.
4. Sustainability
Sustainability in all areas of economic activity is an integral part of the SWITEK's corporate philosophy. As SWITEK is a public company cultivating long-term relationships with customers, universities and schools, everyone there knows that only sustainable thinking and action can lead to long-term success.
Energy-efficient products and technologies
Energy efficiency is a concern to SWITEK since 2006, have always paid special attention back the first sprue picker produced. And since them a strick engery-saving design mechanicism followed in the oncoming single axis servo robot, two axis servo robot, 3 axis servo robot, 5 axis servo robot, IML and other custom made automation solution. GUANGDONG SWITEK TECHNOLOGY CO., LTD. has brought machinery to the market with robots and automation solutions equipped with advanced servo technology to set new benchmarks in the industry.
Sustainable human resources planning and development
The SWITEK Company sees its dedicated and highly qualified associates, most of whome work for the company on a long-term basis, as one of its major success factors. Consequently, sustainability in human resources policy is an important issue for the group of comanies.
Well-qualified technical staff are a resource which is becoming scarcer these days. This is why training young people to become expert specialists has assumed vital importance. Son an extensive apprentice training program has been in place for many years to ensure young expert personnel for the future, The training program covers a great variety of occupations in the technical sector as well as in business administration. This ensures that the high quality standard SWITEK sets for itself can also be maintained in times to come.
To make the company an attractive employer forpresent and future associate in the long term, SWITEK not only offers interesting positions and a wide range of basic and advanced training opportunities. The associates employed at the main facilities also enjoy a number of voluntary social benefits, such as free accomodation, social insurance and vaccination campaigns.
In addition to its corporate training program, the SWITEK company actively supports schools and universities by providing them with machine on loan, to give future automation engineers an opportunity to learn with state-of-the-art robot and automation facilities.
In the asignment of diploma theses and holidays jobs, SWITEK sees an opportunity to supplement secondary and tertiary education with the practical component, which is so vitally important, and to have its own product development supported by project-related scintific work.
Future developments
Another major concern for SWITEK is to create optimal automation solutions for industries witha promising future, in order to promote new developments which will benefit society as a whole in areas such as medical tecnology, electronics, automotives engineering and other industries requiring highly developed technology.
With its IoT gene, for example, GuangDong Switek Technology Co., Ltd. already offers a robot which has the TCP/IP protocol integrated into its operating system to enable it to be integrated into the MESS system of the company for the fast developing of the information application in the future smart process technology. With the help of CAM technology, the new solution will help to continually improve both the quality of the products and the productivity of the automation system.
In the interest of sustainable product development, the SWITEK continuously cooperates with universities and research institutes in specific projects to make sure that the latest findings from research and development are incorporated in its own product development. In this way, it regularly provides the best possible solutions for its customers with a harmonious combination of ecological and economic aspects in view.
Sustainability - practiced for decades and a top priority for the future - is something the SWITEK is concerned about to protect the environment and our resources, and to benefits everyone.
Sustainability Guidelines of the Mechanical Engineering Industry
strong>STRATEGICAL:
1. Sustainability is a crucial part of our company strategy.
2. We create solid business schemes with sustainable values with sustainable values and secure entrepreneurial success.
3. Our technologies and solutions promote worldwide sustainable developments.
OPERATIVE:
4. Sustainable thinking and action are represented in our processes and products.
5. We act with consideration of resources and stand up for climate protection.
6. Our staff is our most valuable asset. We promote engagement and participation.
7. We stand up for keeping the human rights.
COMMUNICATIVE:
8. We actively cultivate the network with all participants.
9. We transparently communicate our sustainable actions.