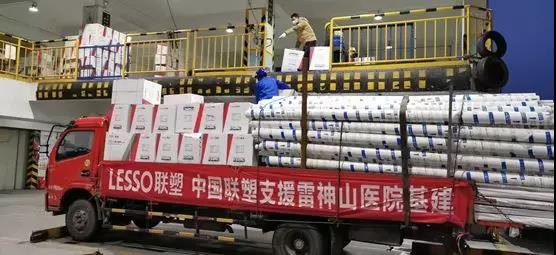 To fight against the epidemic, WuHan Huoshenshan Hospital was put in use on Feb. 02, 2020. Which is a modernized epidemic with 1000 beds to be built in 10 days for the severe nCoV situation in WuHan City. At the same time, another epidemic hospital with 1500 beds WuHan Leishenshan Hospital will finish its final decoration and put in use soon. The achievement not only shocked the world, but also showed again that "when disasters occurs at one spot, help comes from all quarters." Under the joint efforts of our government and enterprise, this project not only showcased the cohesive force of Chinese people, but also the power of intelligent manufacturing behind Made in China.

Among the supporting enterprises, we noticed that LESSO Group, the largest pipe and pipe fittings manufacturer in China, donated all the pipe and pipe fittings for the construction of the hospitals. Beside the epidemic hospitals in WuHan City, LESSO China also announced that they'll also support the local epidemic hospital construction with the help of LESSO production base around China to fight against nCoV with Chinese people.

As the leading pipe and pipe fittings manufacturer on China, LESSO Group is one of the first pipe fittings manufacturer to automize the production of pipe fittings. Sincere early 2015, LESSO Group finished the automized the production process of pipe fittings runner cutting, metal nut in mold insertion, Faucet auto-injection etc. And its first lights out fab was put in use by the end of 2019. The intelligent manufacturing system helped LESSO Group to reduce the man hour grammatically. When the epidemic comes, it helps to ensure the productivity but prevent the spread of virus farthest.

As the automation solutions supplier of LESSO Group since 2015, SWITEK devoted our best resources in this project. A special group of R&D and after service engineers had been established to ensure the successful implementation of the new system. In this special time, SWITEK after service team will standby to ensure the productivity of LESSO pipe fittings production system. Work together with LESSON Group to support the constructing of more epidemic hospital to win the battle of nCoV with Chinese people.