PlastEurasia 2019 High Lights – Yizumi Cutlery Auto-packing Solution
Yizumion Show Their 32 Cavities Cutlery Automation Solution at Plast Eurasia 2019
FromInjection Molding Machine Manufacturer to Turnkey Injection Automation SolutionProvider, Yizumi is Quickening Their Steps of Developing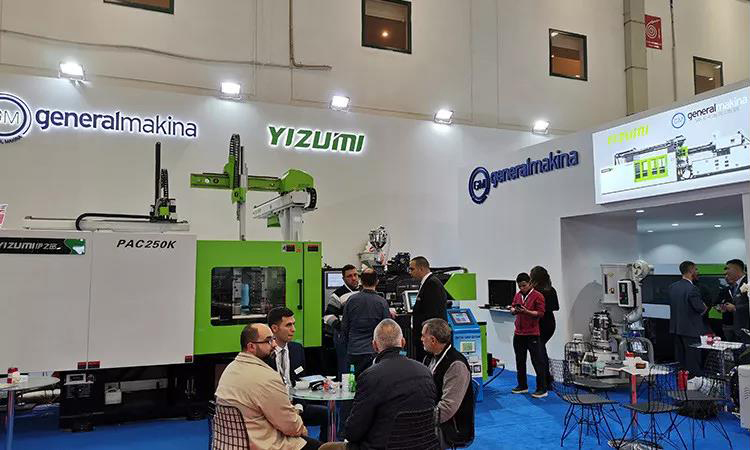 Foundedin 2002, Yizumi is one of the fastest growing injection molding machinerymanufacturers in China. With its excellent performance but reasonable price,Yizumi PAC series injection molding machine is one of the most competitive highspeedinjection molding machine available in the market. Does it mean that Yizumi isonly an injection molding machine manufacturer? No, in Plast Eurasia 2019, wefound that Yizumi is not only an injection molding machine manufacturer, butalso an excellent injection molding automation solution integrator.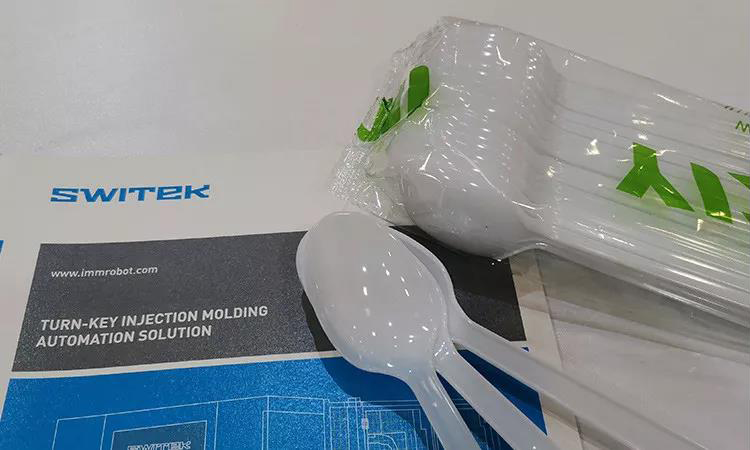 With limited budget, cutlery auto-packing is always regarded one of the mostchallenging injection molding automation solutions. But in Plast Eurasia 2019,we found that Yizumi on show their highspeed 32 cavities spoons plastic bag auto-packingsolution. Different from the cutlery automation solution from its counterparts, Yizumi cutlery auto-packing system high lights it's features below:
 · Economic: Instead of 3 axisservo robot + articulated robot solution, Yizumi 32 cavities cutleryauto-packing solution adopted a 3 axis servo injection robot + 3 axis servoinjection robot automation solution. Compared to the articulated robot, thecost of 3 axis servo injection robot is much lower and will help to reduce thecost of the whole system. Which will make it an economic automation solutionfor cutlery packing.
 · Efficient: 3 Axis servoinjection robot is much more efficient while doing linear movement. We foundthat for 32 cavities 25pcs/bag cutlery auto-packing solution, the total injectioncycle time is only around 8.5s. It's a really amazing automation solution forheavy duty cutlery injection automation solution.
 · Easy for maintenance: With 3axis servo injection robot as its core picking, stacking and transferring unit,Yizumi cutlery automation solution is much more easier in maintenance and programming,which will help to buyer to speed up their installation and start up processand reduce the maintenance cost in the future.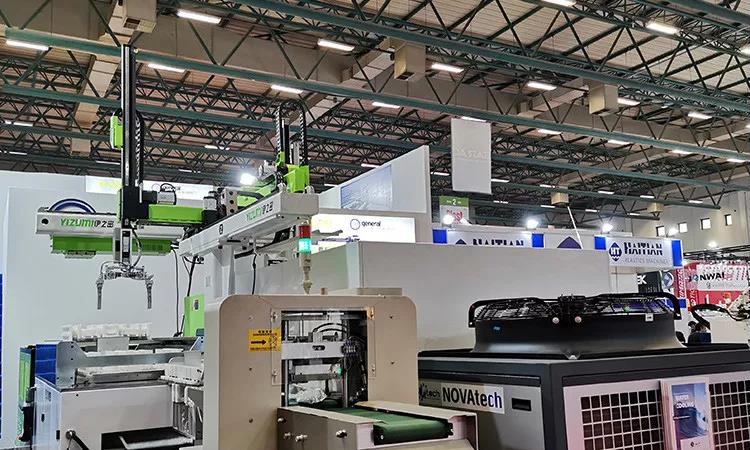 FromK-show to Plast Eurasia, we found that in injection molding industry, turn-keysolution is more and more becoming a trend. The advantage of a turn-keyautomation solution is obvious. To the buyer, a turn-key solution will helpthem to reduce the purchasing cost and will promise the efficiency of thesystem. As a result it would help the buyer to reduce the overall purchasingcost. To the seller it's no doubt that a turn-key solution is a value addedbusiness compared to the machinery manufacturing. Anyway, a turn-key injectionautomation is a win-win solution to both the buyer and seller.